Masters of the Currents
Created by Leilani Chan & Ova Saopeng
The first nationally touring play about MICRONESIANs in the U.S.
Masters of the Currents follows the story of three Micronesian youth who have fled their island nations due to environmental and economic pressures, and who must now overcome conflicts of identity to be accepted by their peers in their new home of Hawai'i while still holding onto the history and rich cultural traditions of their ancestral islands of. Inspired by the stories of Micronesians living in Hawai'i today, Masters of the Currents is a theatrical journey that takes us from remote island nations to urban cities, from ocean water passageways to paved asphalt highways. As the waters of our planet rise, what can we learn from these descendants of the original ocean navigators of the Pacific?
Masters of the Currents combines community based story collection and social justice practices with devised ensemble techniques to create a theatrical performance built with the involvement of the Micronesian community.
The production was created with the contributions of numerous multi-generational voices and stories from the Micronesian community in Hawai'i including elementary school children, story circles with elders, workshops with at-risk youth, and interviews with community leaders and scholars.
The stories from the communities we share on stage are also represented on stage with community members turned artists, playing pivotal roles in every aspect and phase of productions.
All of the Masters of the Currents cast members were involved with the multi-year development process.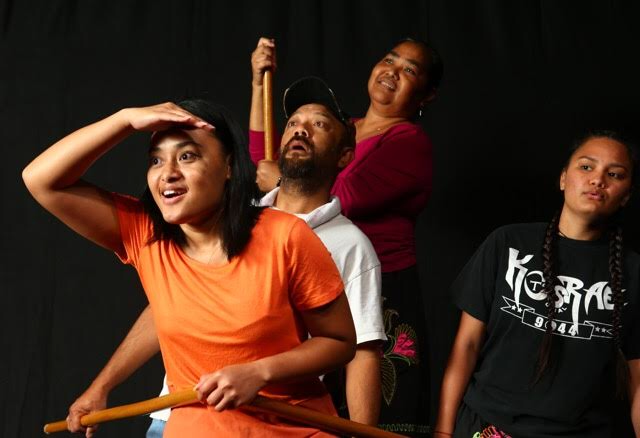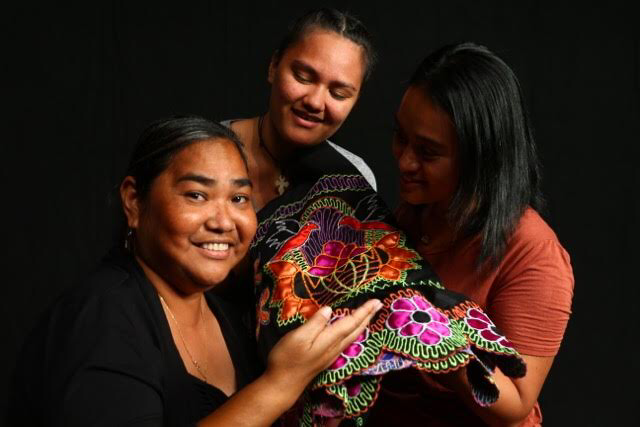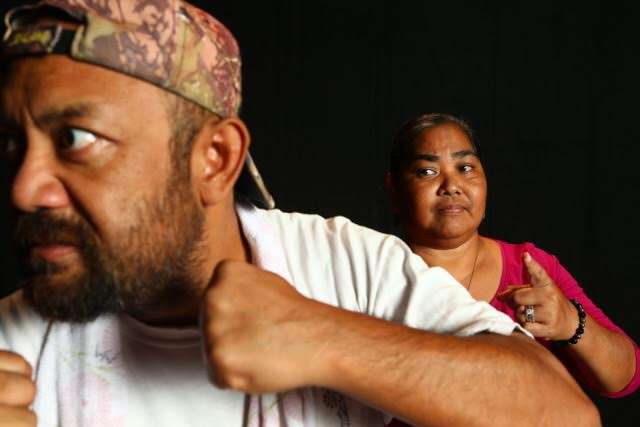 Hawai'i's most recent newcomers come from Micronesia, a subregion of Oceania, comprising thousands of small islands in the western Pacific Ocean. Many have fled their island nations due to environmental and economic pressures.
Calling upon the shared histories of refugees in Hawai'i, Masters of the Currents serves as a creative bridge between new and old immigrant communities. Lead artists Ova Saopeng and Leilani Chan, worked with Kalihi Valley based organizations to create a production that uncovers the disconnections in the community, explores their underlying causes and opens an ongoing dialog that seeks sustained healing for this fractured community.
Since 2015, the artists and partner organizations have collected stories from members of the Micronesian community through interviews, story circles and ensemble workshops. Phase One of Masters of the Currents culminated in a community celebration and three week run at Honolulu Theatre for Youth. We had 24 youth performances with a total of 7000 students in attendance, ranging from 4th grade to high school. The community leaders, cultural bearers and educators across immigrant groups come together to inform the production.
Email ova@teada.org to expand our Continental Tour in 2020 & beyond!
As a pioneer in social justice theater, TeAda prides itself in developing shows with communities of color.
This play would not be possible without acknowledging the importance of Innocenta Sound-Kikku, our community and cultural navigator. Her position as a leader in the community and founder of Pacific Voices in Kalihi, opened doors for TeAda to find individuals and groups that were willing to share their stories.
The Micronesian community is incredibly diverse with various languages, ethnicities, islands, states and countries listed under this one geographic region and category– a region and category that has been imposed and not chosen by the people. This community can't be represented through a single story or play. We hope Masters of the Currents is the first of many more Micronesian artistic works.
Minneapolis, MN May 2019 Co-Presented by Pangea World Theatre
US Continental Premiere
San Francisco, CA October 2018 at Brava Theater
Inter-Island Tour
Kahului, HI - Maui Arts & Cultural Center (MACC) McCoy Studio Theater, March 2018
Hilo, HI - University of Hawai'i, Hilo (UH Hilo) Performing Arts Center, March 2018
Youth Premiere
T-Shirt Theatre is a program of the Alliance for Drama Education, a youth based theater company with a 30-year history based at Farrington High School in Kalihi.Their mission is to help Hawaii's youth rehearse for life to master the skills needed to win jobs, justice and joy.
Micronesian Health Advisory Coalition advocates for the health and well being of Micronesians to improve their quality of life in seeking justice and equality. As vice president Innocenta Sound-Kikku is a key partner as a community leader. In addition she is the founder of the intergenerational youth program "Pacific Voices" at Kokua Kalihi Valley in Kalihi.
Honolulu Theatre for Youth is a performing arts venue that offers theatre and drama education for young people and families throughout the state of Hawai'i. They produce children's plays, offer education programs & professional workshops.