REfugee State
TeAda Artists and creators of Refugee Nation Leilani Chan and Ova Saopeng utilize their TeAda methodology to facilitate storytelling and theater workshops for recent refugees. They have supported numerous arts and healing spaces in various artistic, teaching and organizing capacities.
Refugee State is a national workshop and performance series utilizing TeAda methodology designed to create healing for refugee participants and a create awareness among the general public on issues affecting refugees.
Refugee State draws on mindfulness meditation techniques, theater games, storytelling practices, and popular education methods that stimulate conversation, facilitate expression and community building. At the end of workshop series, participants are invited to perform their own stories with the support of TeAda artists, providing a broader platform through community-based arts to amplify the narratives vital to social and political transformation.
Past Refugee State community partners include: Immigrant & Refugee Community Organization (IRCO) in Portland, Oregon; Midtown Utica Community Center (MUCC) in Utica, New York. The 2019 community partner organization is Program for Torture Victims (PTV).
How Does It Work?
TeAda methodology supports spaces for deepening solidarity practices, and expanding capacity to express personal and collective narratives. We have a trauma and resilience framework that acknowledges that both are stored within the body in different ways, and part of how to heal deeper is through gently re-engaging the body and releasing stories. This allows for healing and solidarity to be shaped on a deeper level, both for the individual and the collective.
- Through meditation practices and other embodied methods, we start with the self. Who am I? Where do I come from? Who do I bring with me? This introduction in a group space allows for each person to express and witness.
- Next, we incorporate aspects of theatrical play, based in Social Justice & Community-based practice, and non-western performance modalities. This creates a space where participants can release, connect with openness and move around in our bodies. The aspect of play and joy is important to create a space that centers resilience building practices and gently opens up a vulnerability space within each participant. These games are facilitated with attention to a range of varying physical and mental abilities.
- The final aspect of a Refugee State workshop is a deeper storytelling practice. This is done through theater scene making, song and story circles, and performance. Everyone has a chance to develop and express their own story. Past themes explored included solidarity, gender, race, nationality, immigration status, mental health, class, etc. These themes are created in collaboration with the host organization.
While not everyone is required to share their story vocally, everyone is required to witness and activate deep listening practices. This allows for the whole group to open vulnerability space and identifies leaders within the group who may be able to facilitate these practices in the future.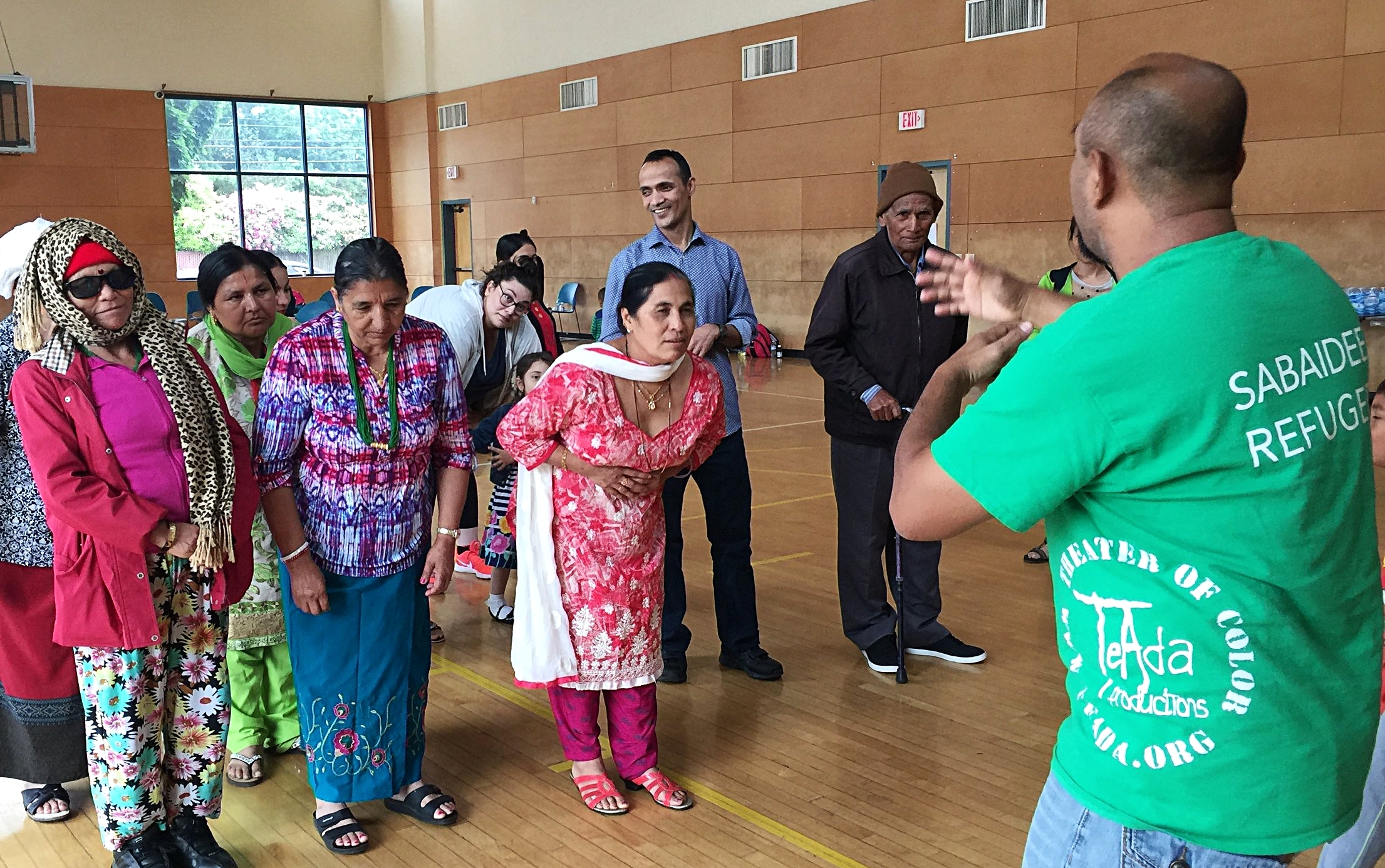 Why is this work political?
This work is deeply rooted in non-western, decolonial methods of knowing, learning and building community. Drawing on a history of popular, non-western and indigenous performance from around the world, TeAda sees performance and storytelling as a ritual space, a space to return to and shape our understanding of ourselves in relationship to each other and the world. The space allows for power to emerge and develop within each participant, and for a culture shift that is more aware of the nuances of the breadth of stories in the room. Different experiences of systemic oppression are no longer seen as obstacles, but rather as places for learning, reflection and solidarity building. This also provides more room for leadership of women, queer and trans people, disabled people, and those with non-verbal learning styles to be amplified within the space. This sort of cultural work is essential to incorporate transformative organizing that helps to support a new vision of existence that connects internal and relational movement to institutional and systemic analysis and accountability. This is a way to support deeper roots of solidarity, popular education and movement-building.