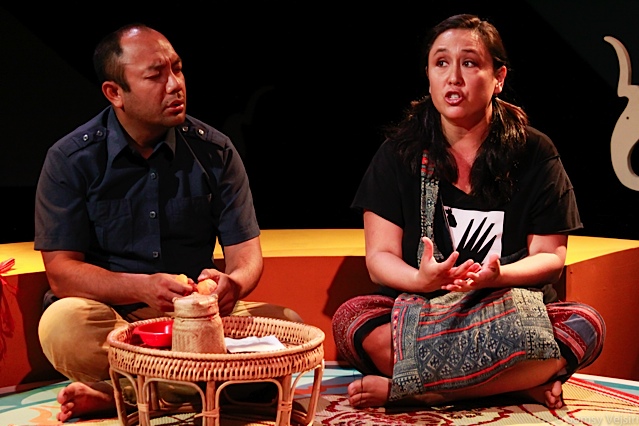 REFUGEE NATION
Written by Leilani Chan and Ova Saopeng
PERFORMANCE: A mother lives alone in the darkness. A father struggles to forget a lost war. A son battles in the streets of urban America. A daughter searches for answers in her community. Refugee Nation is about a young generation struggling to understand their history and the silence of an elder generation still healing from the traumas of war.
More than just a telling of Laotian American history, this three-person performance eloquently touches upon issues relating to the refugee experience, assimilation, generation gap, and mental health using drama, film, music, and audience interaction, and personalizes these issues through a genuine Laotian American perspective. The result is a performance that not only brings to light the hidden stories of Laotian Americans around the U.S., but one that is able to unite people from all types of backgrounds, ethnicities, and histories by relaying the ideas of change, loss, struggle, healing, and the unrelenting strength of the human spirit.
HISTORY: Since 2005 collaborators Leilani Chan and Ova Saopeng have been collecting oral histories from Laotian family and community members across the country to create an interdisciplinary theater performance that explores the impact of war, refugees, global politics and U.S. citizenship. Through the collection of oral histories, the show reveals connections between American and Southeast Asian history, and the unique challenges faced by political refugees and their American children. It gives voice to the Laotian Diaspora—yet to be included in the American experience. Refugee Nation continues to grow with the certainty of new refugee arrivals coming from the Middle East, Africa and Eastern Europe. What can we learn from the wounds of a war 40 years ago that are still yet to be healed.
This project was developed through a partnership with Legacies of War – an education and advocacy group dedicated to the removal of UXOs from Laos. Refugee Nation received a MAP Fund and a NPN Creation Fund.
For more information, please visit the Refugee Nation site.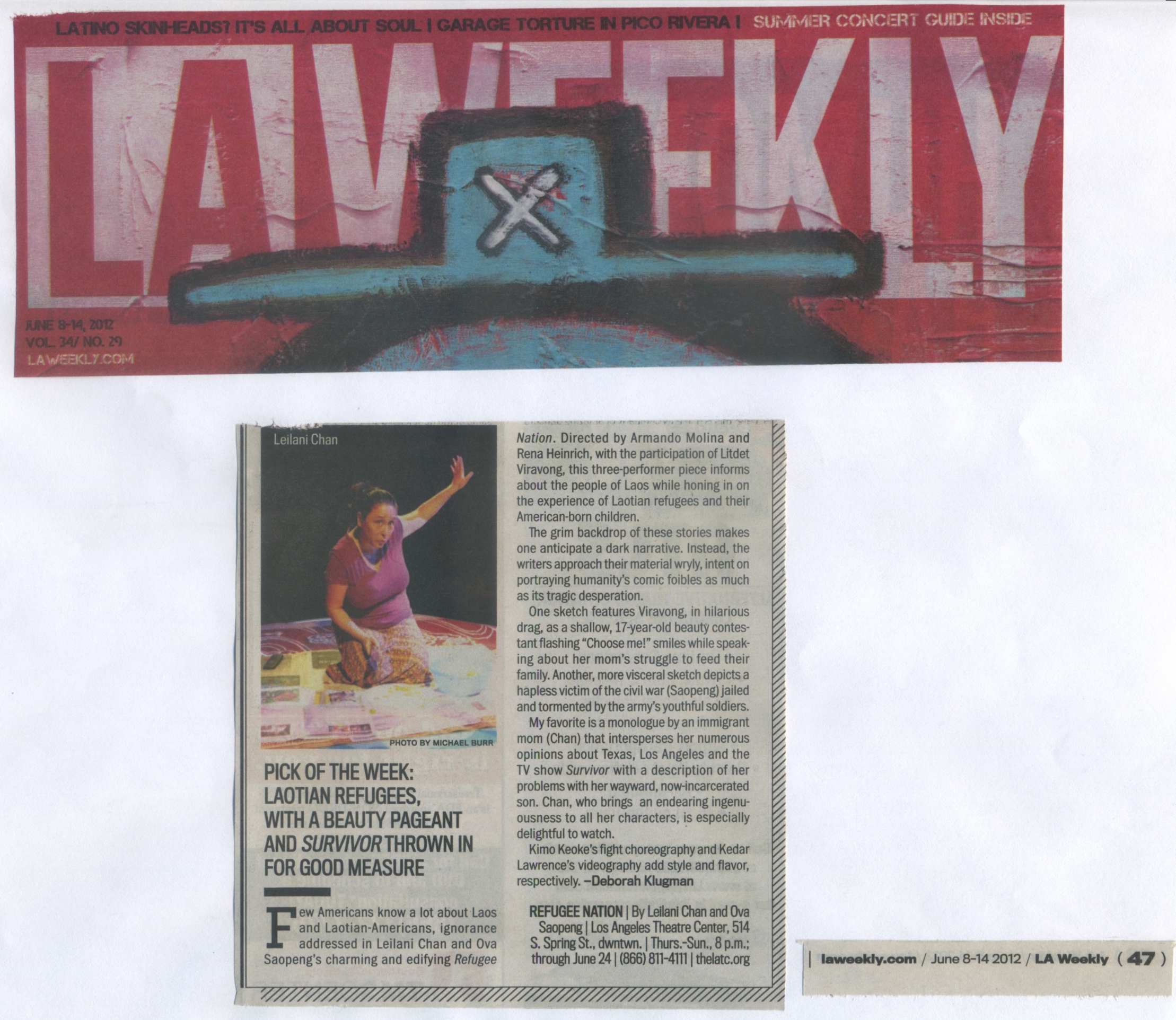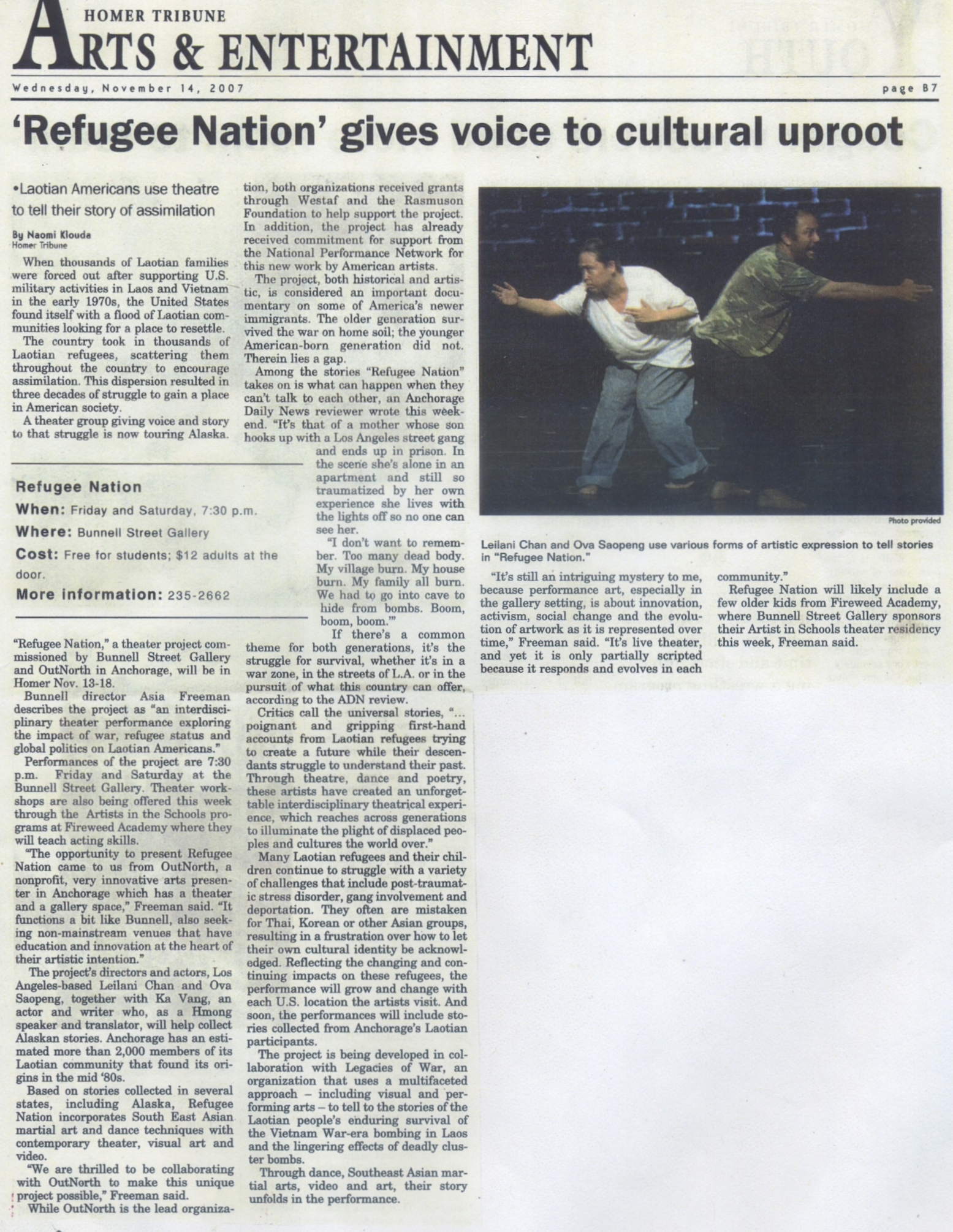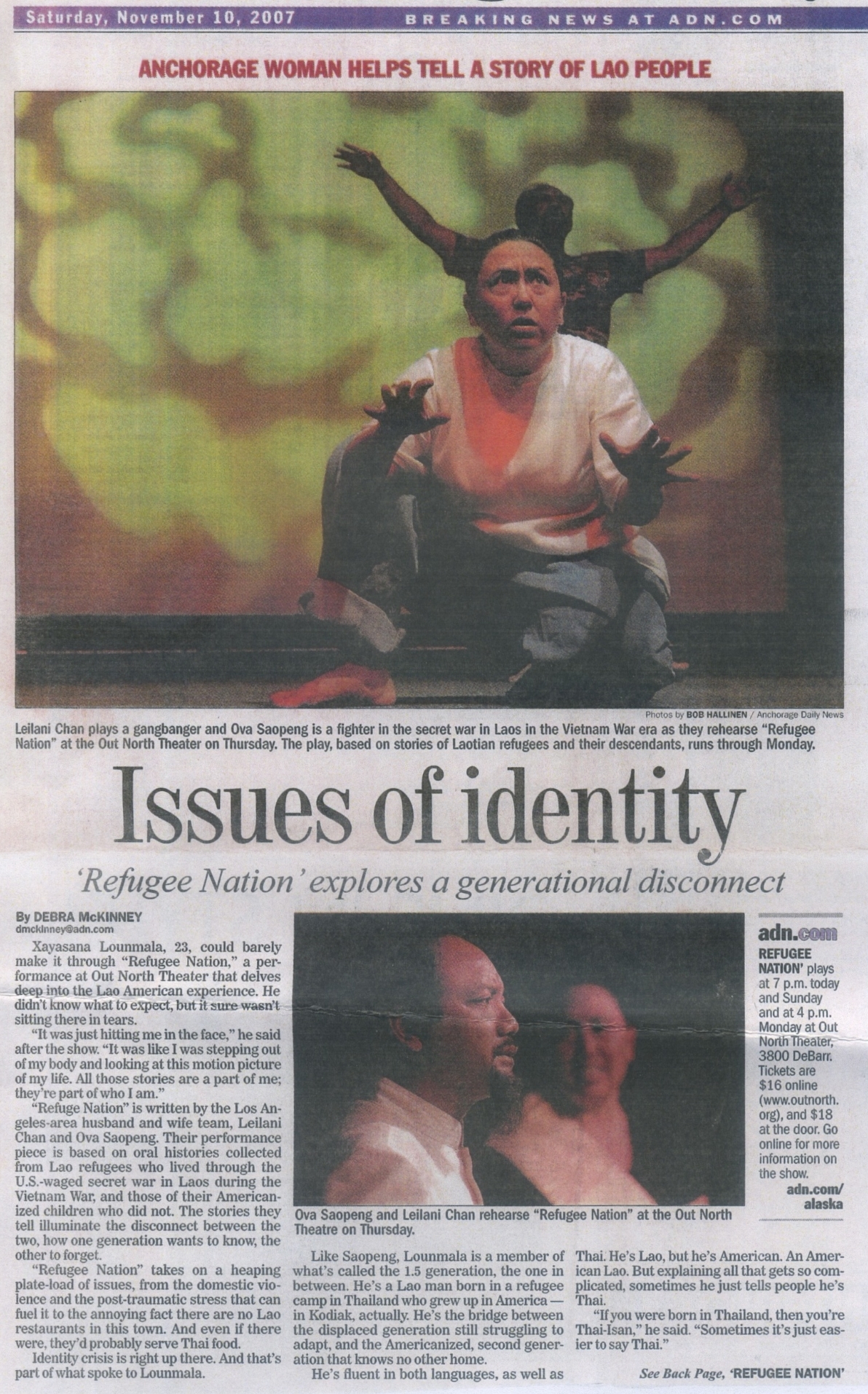 Upcoming events
Interested in bringing Refugee Nation to your theatre? Email ova@teada.org to book our show.


Previous Tours
Merced, CA- UC Merced Southeast Asian Symposium
Los Angeles, CA- Highways Performance Space
New York City, NY - Abingdon Theater
Boone, NC - Turchin Center for the Visual Arts Festival
Cambridge, MA - Cambridge Multicultural Arts Center
Anchorage, AK – Out North
Berkeley, CA - La Peña Cultural Center
Knoxville, TN - Carpetbag Theater
San Diego, CA – The Jacob Center
St. Paul-Minneapolis, MN – Intermedia Arts
Seattle, WA – Ethnic Cultural Theater University of Washington
Portland, OR – Interstate Firehouse Cultural Center
Minneapolis, MN – Intermedia Arts